What Is Branding?
In musical terms, a brand is an artist's identity; it's how they represent themselves culturally, visually and musically, and it usually corresponds to the sound of music that they create. A musician's brand can be displayed through a variety of media such as their album covers, logo, website, social media, music videos, visual appearance and stage presence. Branding is a crucial component to helping an artist find their true artistic voice; it can catapult the musician's career through strategic marketing by helping them discover a niche selling-point within the market.
For example, ACM Alumnus Matty Healy, frontman of The 1975, was famously known for his gothic appearance, with black hair, tattoos and dark eye makeup, his aesthetic contrasted against The 1975's pop indie sound, whilst cleverly transposing the emotional undertones of their music. In 2015, the band shocked the public after revealing their new visual identity, and as a result, received a lot of publicity. Matty revealed a cartoon strip on social media depicting an 'old Matty' silencing a character named 'Pink (new Matty)' alongside "Our projected identity must change not only visually but philosophically – how do you do that? Firstly we must reclaim our identity & repossess our control of it… Until then there won't be any pop music or dancing with long hair." The band changed their classic black/gothic trademark to a fluorescent pink, and adopted a new 80's sound to match.
Other examples of iconic branding/symbols:
Rolling Stones lips / Mick Jagger's stylised dance moves.

David Bowie's Ziggy Stardust lightning bolt.

Prince's purple everything.
Before We Begin
Discovering an artistic identity or brand does not always come easy. There's the factor of finding yourself, as well as finding a part of yourself that's unlike the millions of other musicians on the planet…and selling it. Individuality is an integral part of creating a brand, so if you wish to adopt a persona that uses witchcraft, bohemian dresses, tambourines and on-stage twirling, you might want to opt out of that one (Stevie Nicks might have something to say!).
Before you can work out what sort of brand you wish to create, it's important to firstly ask yourself on why you want to create music, and what drives you to do so…
Why is music important to you and what is your drive to create it?

What are your morals – what do you strongly believe in and wish to explicitly stand for? (Liberalism, non-conformity, feminism, LGBTQ rights, quirkiness, mystery, boldness;  you can be as serious or as playful as you like). 

What type of music do you create and how does it reflect through your visual identity?
Throughout her career, Lady Gaga has been famed for her bizarre appearance (the 2010 MTV Awards meat dress, anyone?). Gaga's visual identity represents her powerful and upbeat music, and therefore, draws attention to it. However, this is not her only reason behind her peculiar wardrobe. It is in fact to establish her desire for control in an industry that can be known to direct control away from the artist, and in particular, away from women; "What I've done is that when they wanted me to be sexy or they wanted me to be pop, I always put some absurd spin on it that made me feel like I'm still in control." In other words, she is using her brand to establish her moral foreground whilst intrinsically displaying her sense of authenticity and style, all still well within her own marketed space.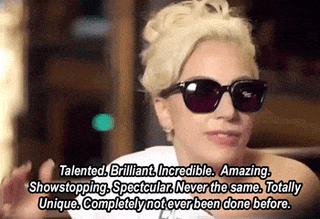 Step By Step
Who inspires you? Write each artist down and state what you like about them / what message they convey within their work. One of the best ways to create a foundation for your brand is to combine the essence of many of your greatest influencers. However, it's also important to note that within the process of creating a brand, you don't completely copy your idols!  Example: Ariana Grande's feminine appearance, Freddie Mercury's flamboyant and theatrical stage presence, Troye Sivan's LGBTQ advocation.
What do you wish to convey within your music? Think about your core values and how you might want to portray these ideals. What is it exactly you wish to focus on? May it be experimentation, being a charismatic front-person, a political artist, an environmental-protector or simply an artist that loves to sing about how much they love Star Wars; there are many different approaches and exciting possibilities waiting to help you carve out your true identity.
Define what makes you different. What are you best at? Write these elements down, and try to describe how you think your brand appears currently, and how you want it to transform. Is it unique and authentic? Are you talented in something that many other musicians are not?
Write down ten key words that you'd want to represent your brand. Are you down-to-earth like ACM Alumnus Ed Sheeran? Mysterious and ethereal like Kate Bush? Or are you spacey and futuristic like Muse?
Following these key words, create a spider diagram for each one and decide on how you might want to explore the variety of mediums previously discussed (i.e visual appearance, stage presence, logo, social media, etc). Of course, it's important to remember that although you are creating an identity for yourself, it should still be authentic to you as an artist, or, true to your artistic persona. If you're overly stylised and  thought-out, you might come across as too contrived or over-rehearsed, and as a result, not credible to your audience. Allow your artistry to tell a story to your fans; be emotional, real, creative and unique. Do whatever comes naturally, but also, use these tips to fully help you fine-tune your artistic identity by vitalising your most sellable traits.
How ACM Can Help
Here at ACM we want to make sure our students have the best possible tools to help them carve out a future that they can be proud of. That's why we have the Artist Development and Creative Output team; a group of dynamic industry professionals who cater to each of our student's artistic needs, by providing integral feedback on a variety of creative aspects, such as their music, and of course, their branding. Our ADCO team can help you brand yourself and work out exactly the type of artist you wish to be; thanks to our Question Time sessions, where you told us that you wanted ADCO to become more accessible, we are now bringing our development team to you, straight into your classrooms. We hope these tips have been helpful and inspired some creative thinking!