At ACM, we are hugely proud of our graduates who are constantly breaking boundaries and making waves within the music and creative industries.
They know more and work more in sustainable music careers.
Our unique blend of online, in-class and real- world enrichment programmes, included with all ACM Courses and Programmes, has helped our graduates to get to where they are now.
Our expert staff work closely with our student body to ensure that they get the absolute most out of their time at ACM.
This could mean working on technique as a performer, honing presentation skills as an aspiring industry executive, or working in a world-class recording studio with an award- winning engineer to polish a production skill.
We strongly encourage collaboration amongst our students as this is where some of the best creative results are born and lifelong working relationships are formed. We send our students to places as far as LA to take part in Songwriting Circles to work with the very best professionals, such as James Abrahart, award-winning writer for artists, including Usher, Justin Bieber and Rita Ora.
Going to MIDEM was a really memorable experience! It coupled ACM's educational and social values perfectly. I also got some great information from the talks.
Networking and collaboration opportunities are equally open to our business students. In addition to the study of real-time, real-world industry examples brought into the classroom by our staff of industry professionals, we also take our students to the most relevant industry events.
And so this is our pledge to you. We will enrich your music education experience with genuine exposure and connection to today's industry. And you will go further because of it.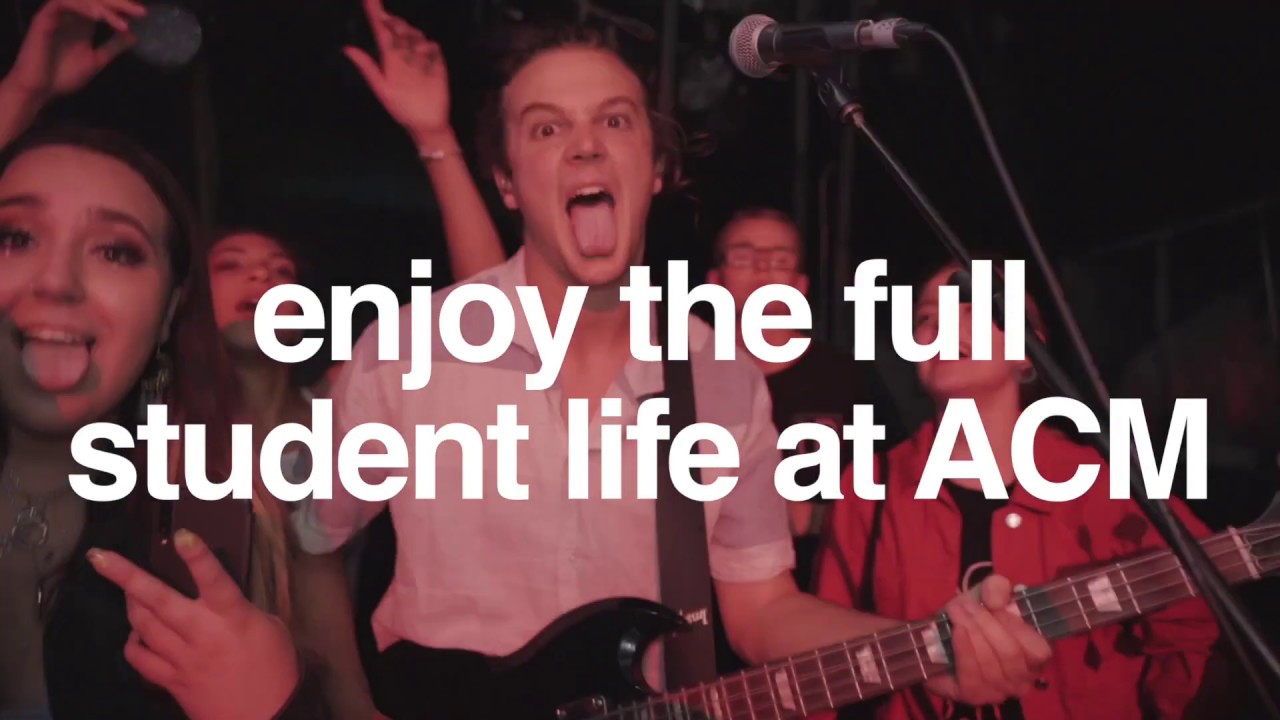 Guildford
Our Guildford home has multiple independent venues and plenty of space for you to be at your creative best and the Guildford's bubble is the perfect place for you to find your feet in a microcosm of the music industry. With local promoters, a buzzing local live scene and our studio facilities, you can create a lifestyle with yours and your peers' music at the centre.
With our close connection with venues such as the Star Inn and the Boileroom, build your live musical journey in establishing yourself as an artist/band in the local scene. Then, when you feel ready, get the best quality recordings possible in our SSL studio, accessible to all students.
London
Experience everything ACM in the heart of London at our Clapham campus!
It has a vibrant local scene with plenty of independent bars, restaurants and values such as Venn St. Records and Revolutions. Throw yourself into the hustle-and-bustle of London within the safety of ACM's walls.
With an expanding campus fitted with recording studios, practice rooms and plenty of spaces for you to hone your craft, ACM Clapham is the perfect environment to build your career.
Birmingham
Birmingham is a true microcosm of the music industry; one where performers, producers, songwriters, artists and music business entrepreneurs all operate and collaborate, amidst the exciting happenings of the international music scene.
ACM Birmingham is situated within the centre of Birmingham and emulates everything exciting about the city's energetic music scene.
With frequent gigs, music conferences, an SSL studio alongside everything else ACM offers, ACM Birmingham is the place to nurture your creative self.