Singer unveils 45-minute film via Apple Music, indicating follow-up to Channel Orange is imminent – but it's not called Boys Don't Cry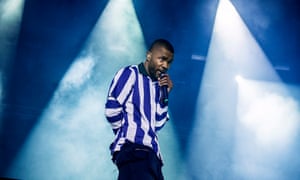 Fans of Frank Ocean, rejoice: the enigmatic R&B artist has finally released new music.
A 45-minute "visual album" was released through Apple Music at midnight ET. Somewhat appropriately, given the protracted speculation over when Ocean would break his creative silence, it is titled Endless.
In announcing Endless, Apple also indicated that "more from Frank" would be released over the weekend, leading fans to assume that his second album is nearly, finally here.
Then titled Boys Don't Cry, the hotly anticipated follow-up to 2012's Channel Orange was tipped for release last month.
When that deadline came and went, fans were somewhat appeased on 1 August with the launch of a four-day live stream at boysdontcry.co, set in a warehouse with desks and audio equipment lining the back wall, featuring a man – presumed to be Ocean – cutting wood.
Social media users embraced the mystery with gusto, observing as the stream progressed that the Ocean figure appeared to be assembling a spiral staircase reaching to the roof of the warehouse.
The stream, which contained snippets of music but no vocals, ended on August 4 – with no new release from Ocean.
On Tuesday, Ocean's producer Malay explained the delay in an interview on Reddit, saying: "Art cannot be rushed.
"It's about making sure the perfect aesthetic for the situation has been reached, to do that takes constant tweaking, trial and error … That goes for any creative ."
Nearly three weeks on from its launch, the live stream reappeared late on Thursday, this time to the soundtrack of what appeared to be complete songs, leading fans to conclude that Ocean was streaming his much-anticipated album.
Endless opens with At Your Best (You Are Love) by the Isley Brothers, which was notably covered by Aaliyah. Ocean first released his take on it in early 2015, but has since updated it.
Shortly after the stream was reactivated on Thursday night, Apple confirmed that the 45-minute Endless would be available exclusively on Apple Music from midnight. The video shows an edited version of the livestream.
A representative for Apple Music confirmed to Rolling Stone that Endless was a separate project to his sophomore album, which would be released over the weekend – but was no longer titled Boys Don't Cry.
The release of Endless took fans by surprise, prompting Frank Ocean to trend on Twitter for several hours.